The Saxophone Family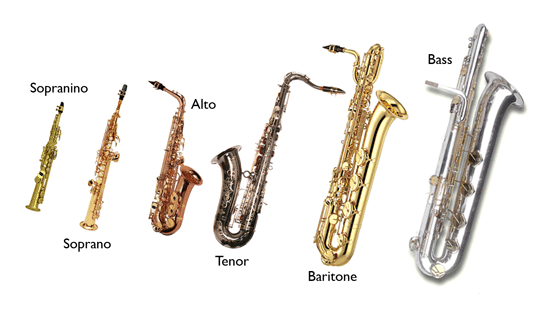 Most saxophones look like a 'J' - the stereotypical sax shape. The exceptions to this are the soprano and sopranino saxes (although the soprano sax is also made in the 'J' shape). The straight horns lend themselves much better to the higher register.
The keys of a saxophone consist of metal disks with leather pads under them to seal the openings in the body of the instrument. On first inspection, the saxophone mechanism looks exceptionally complex. However, the fingering of a saxophone is relatively straightforward. The fingering is very similar to that of a recorder, flute, oboe or clarinet. For those of you who played the recorder at the age of seven, start casting your mind back! The mechanism was invented by the German instrument maker Theobald Boehm (hence the Boehm mechanism),a contemporary of Adolphe Sax.
Sopranino (E-flat)
Also doubling as a sheep dog training aid, the sopranino saxophone plays an octave above the alto sax. It's a tiny horn, and is made in both straight and curved designs. I've never seen one, let alone played one, and in any case, I wouldn't want to put my pet pooches through such trauma!
Soprano (B-flat)
The soprano sax is a relatively small horn and more resembles a clarinet in size. Most sopranos are straight, although curved sopranos do exist (I can't help thinking about Sherlock Holmes' pipe when I see a curved soprano!) It's tricky to find a good soprano sax and they are more difficult than their alto and tenor cousins to play well.
Alto (E-flat)
Probably the most common horn of the sax family and generally regarded as the easiest of the saxophone range to play, it's a good horn to start learning on. Alto horns are comfortable to hold, relatively easy to blow and (as far as saxes go) reasonably priced.
Tenor (B-flat)
This is the sax typically played by jazz and rock players. You can differentiate between alto and tenor saxes by the shapes of their necks. An alto sax has an L-shaped neck with a slight bend. A tenor sax neck is more like a swan neck with a distinctive curve. A tenor horn larger and heavier than an alto.
Baritone (E-flat)
The baritone sax plays an octave below the alto saxophone and is big. And heavy! It requires a serious set of lungs and pretty substantial neck and shoulder muscles to play for more than 20 minutes! It's bigger again than a tenor sax and has a neck that's curled round into a loop.
Bass (B-flat)
You can get floor supports for the bass sax — attempting to support one of these things with a neck strap would probably require a month of traction at the end of your set. Daily practice blowing up lorry tyres will be a great training aid in learning to play one of these instruments. There are portable bass horns — the Selmer Model 56, for example — but you'll almost certainly want to press weights for a few weeks before you undertake playing one for a long period.
Contrabass (E-flat)
The contrabass sax usually lives on an adjustable wheeled base. It has to because it is 'huge'. At about 2m high, you can't take this horn to your local pub gig in your Corsa. And after shelling out around £20,000 for one of these you won't have any cash left to buy a car anyway! I s'pose if you are lucky enough to own a contrabass, you'll at least have a decent six-pack!
Sub Contrabass (B-flat)
What more can I say!
I'm not sure how many of these there are in the country but I'd guess the number is probably more than two and less than four!
The sax as a transposing instrument
You may have noticed all the E-flats and B-flats in the titles above. This is because the saxophone is a transposing instrument. When an alto sax plays a C, it sounds like an E-flat on a piano. Similarly, when a tenor sax plays a C, it sounds like a B-flat on a piano. The reason for this is not immediately apparent, but is thought to be due to the quality of the sound/pitch relating to the size of each horn, along with the requirement to fit in better with the already established brass instruments in marching bands. Whatever the reason (and this is another subject altogether),when playing along with other people, you'll be in a different key to them. Somewhat frustrating, but that's the way it is!
So why wasn't the sax made in the key of C?
Well, it was.But it wasn't very good, and not many were ever made!
It was called the C melody saxophone and appeared in the United States during the 1920s and 1930s during the great depression. But for several reasons they didn't take off (one reason being that their tuning was particularly bad). These days they do come up for sale and are not that expensive. But, with the absence of spare parts for them, they wouldn't be a great investment.